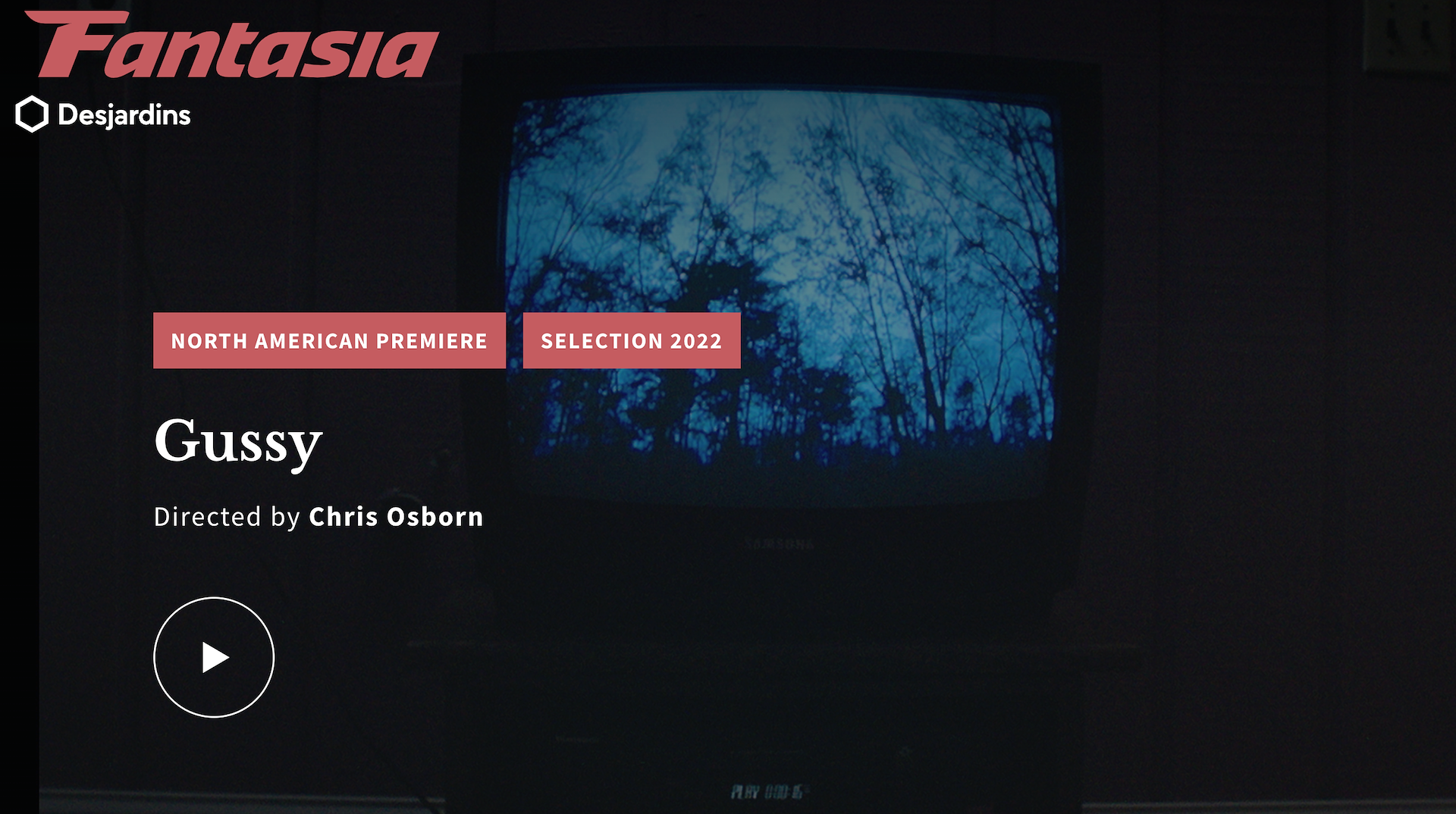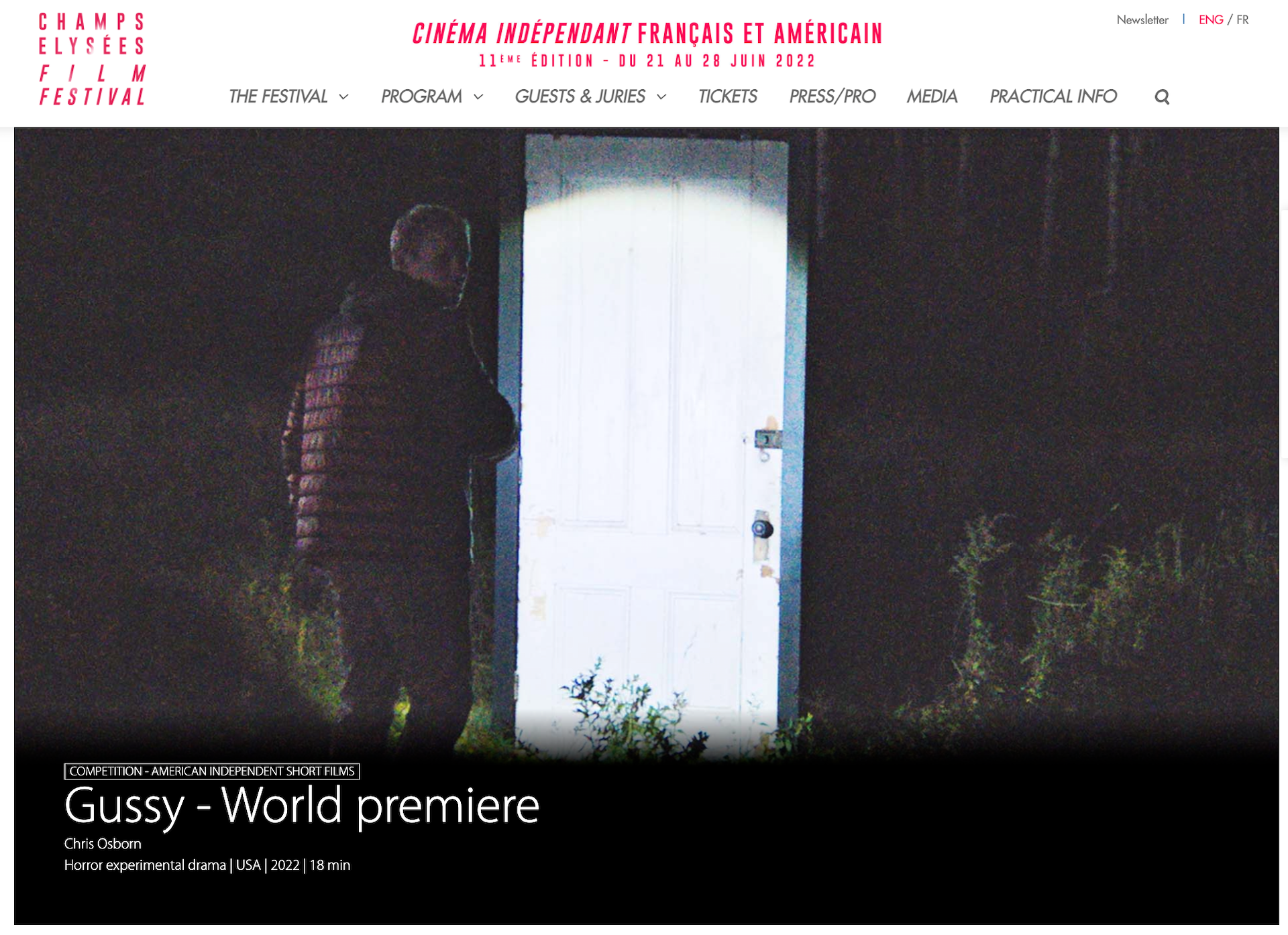 GUSSY, directed by Chris Osborn, will premiere at Champs-Élysées Film Festival in June and I was happy to design the titles and credits.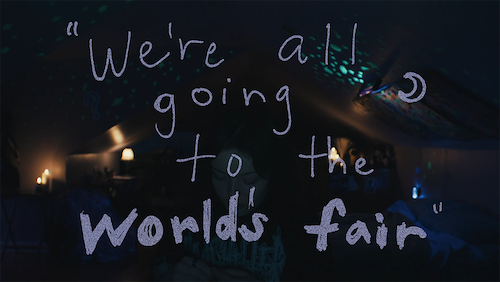 We're All Going to the World's Fair is out NOW, playing at BAM and Quad Cinemas in New York and the Music Box in Chicago! It is receiving rave reviews and will open nationwide on April 22nd, 2022. More info on showtimes at https://www.wereallgoingtotheworldsfair.com/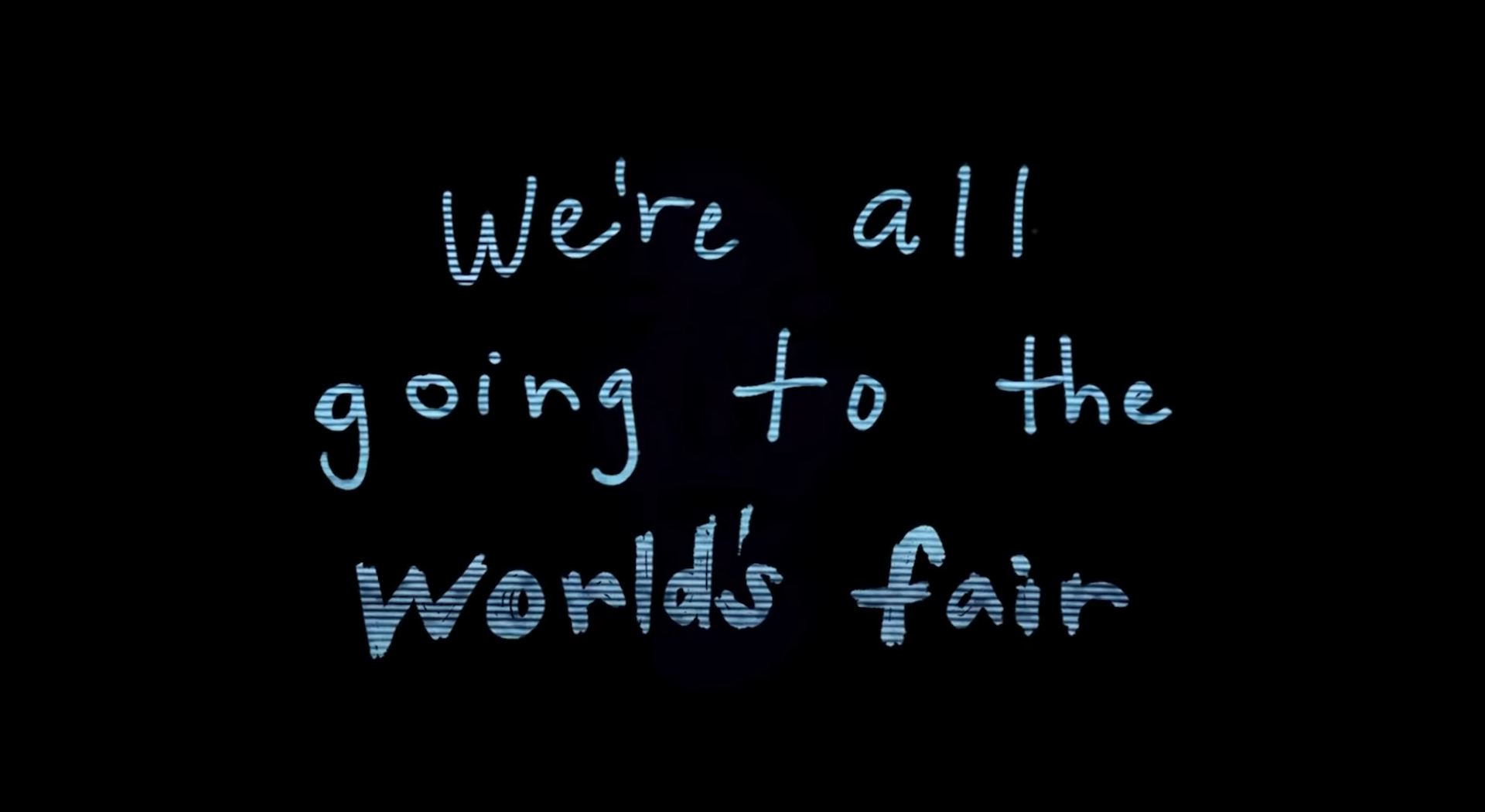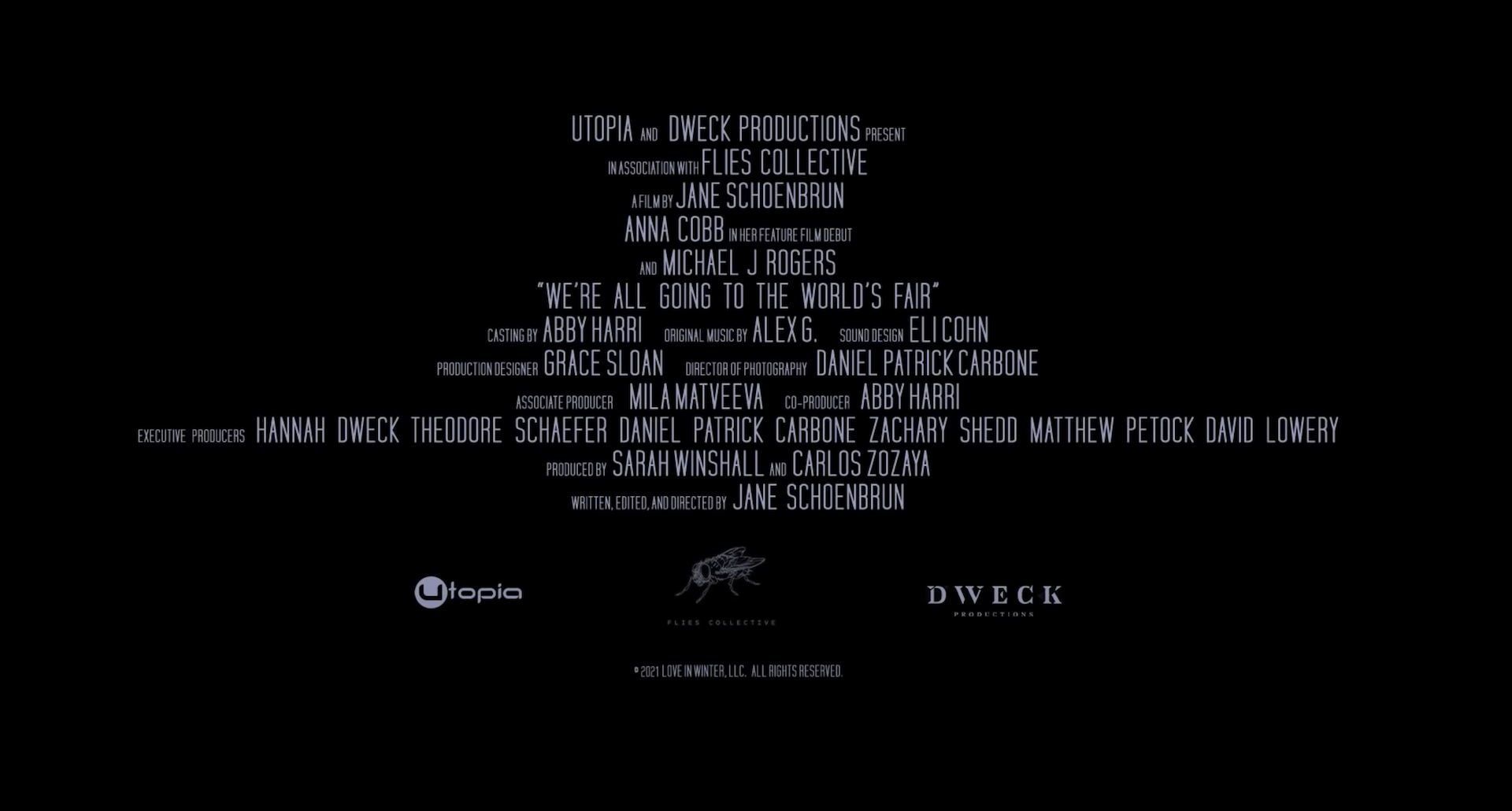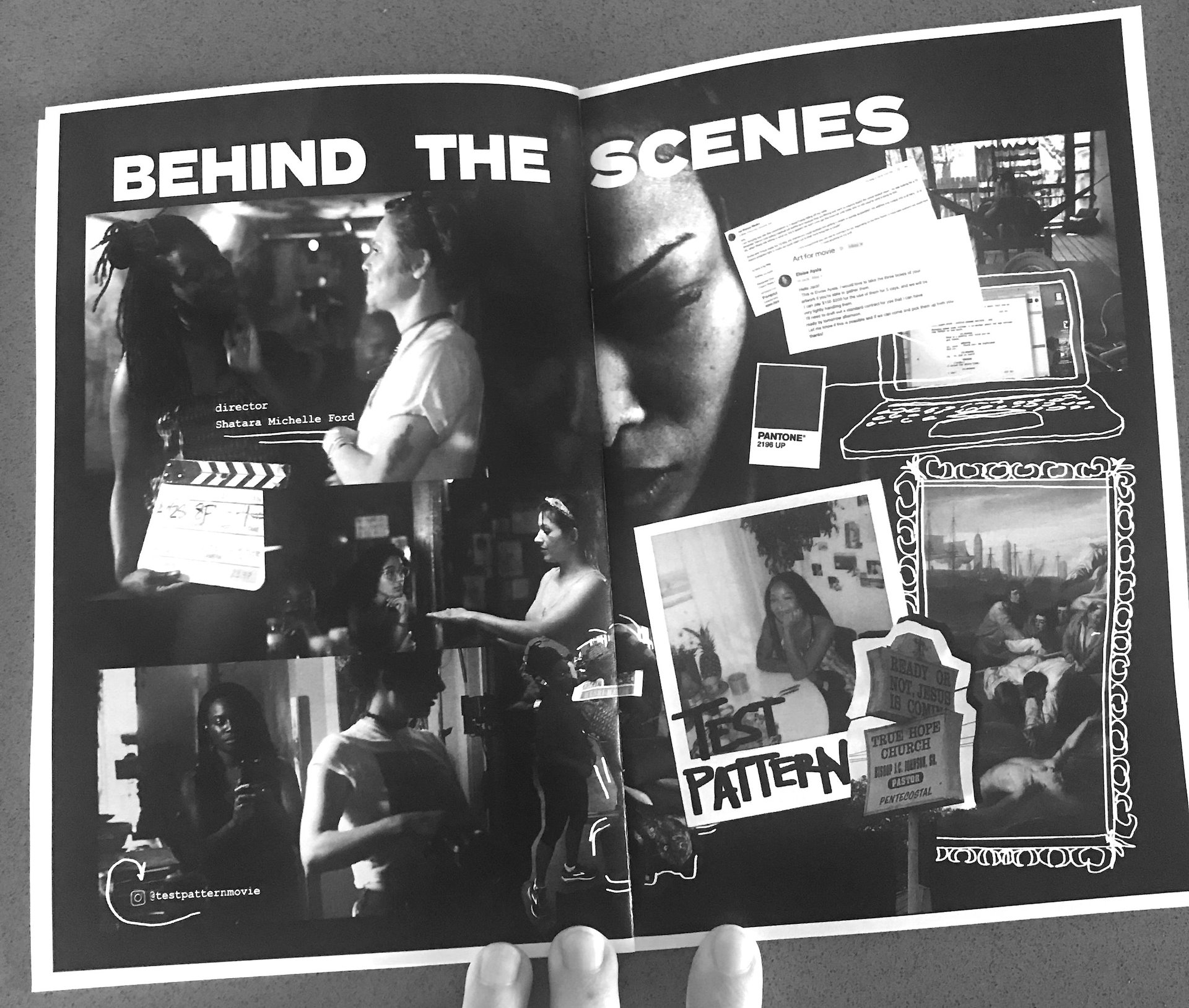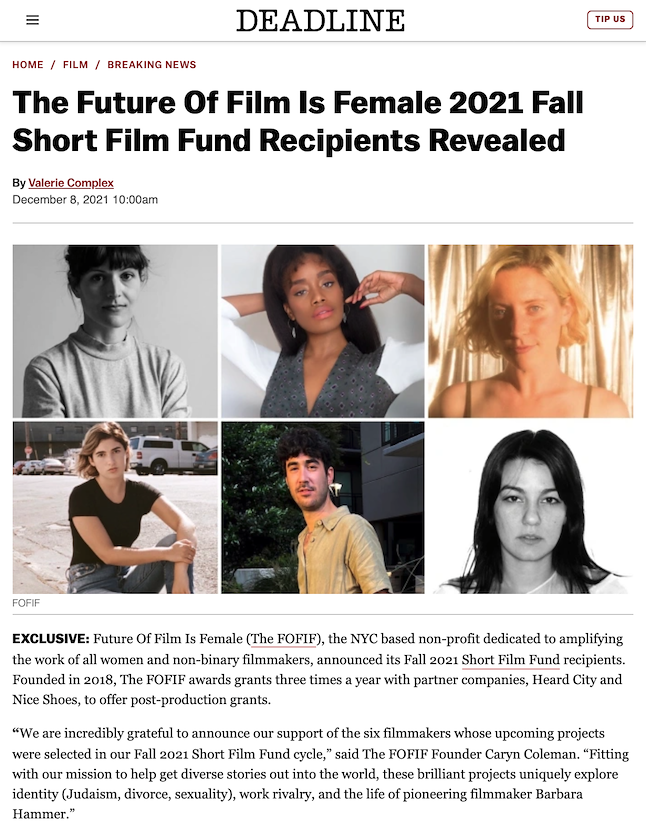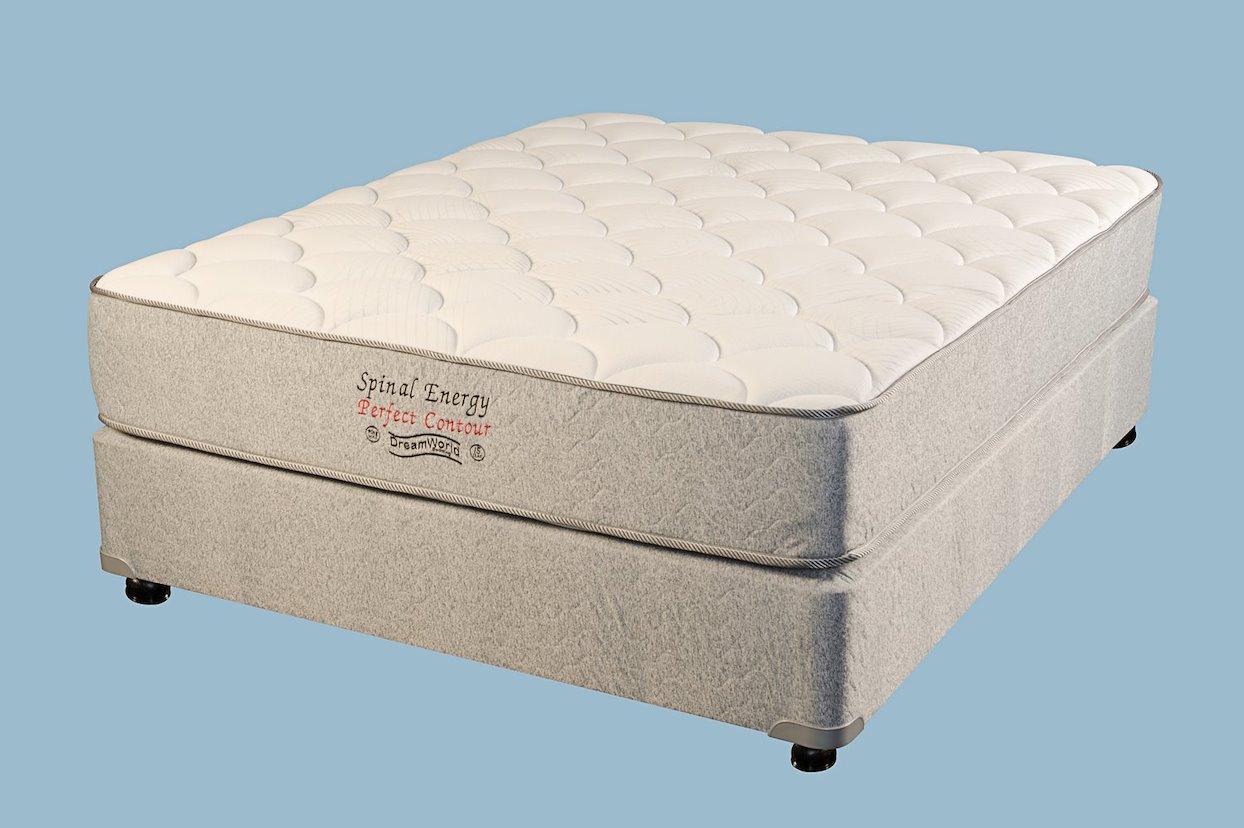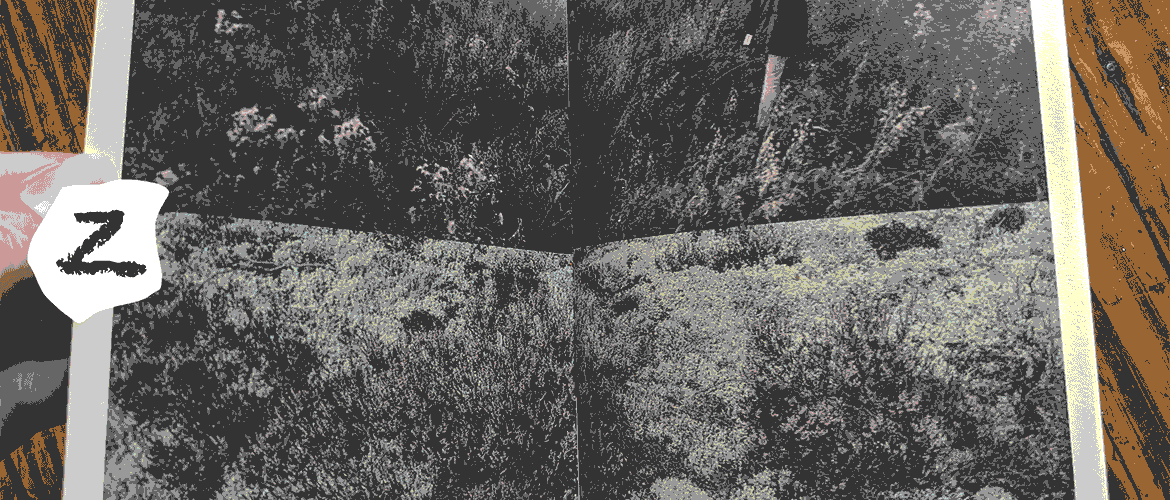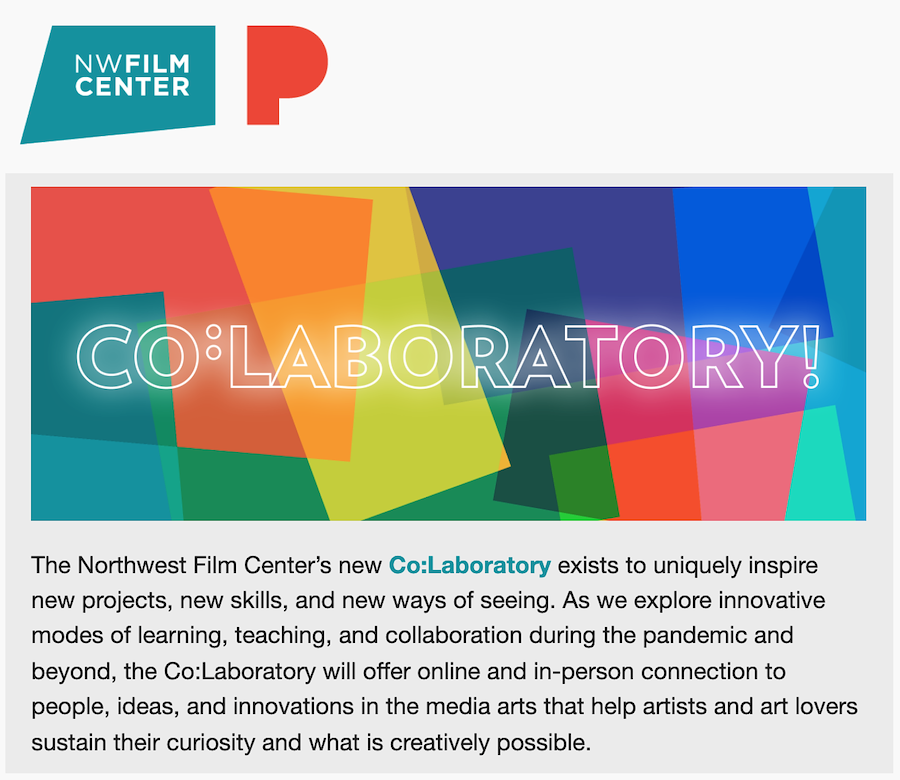 I had the pleasure of teaching a class on zine-making for the The Northwest Film Center's Co:Laboratory (part of the Portland Art Museum) back in May.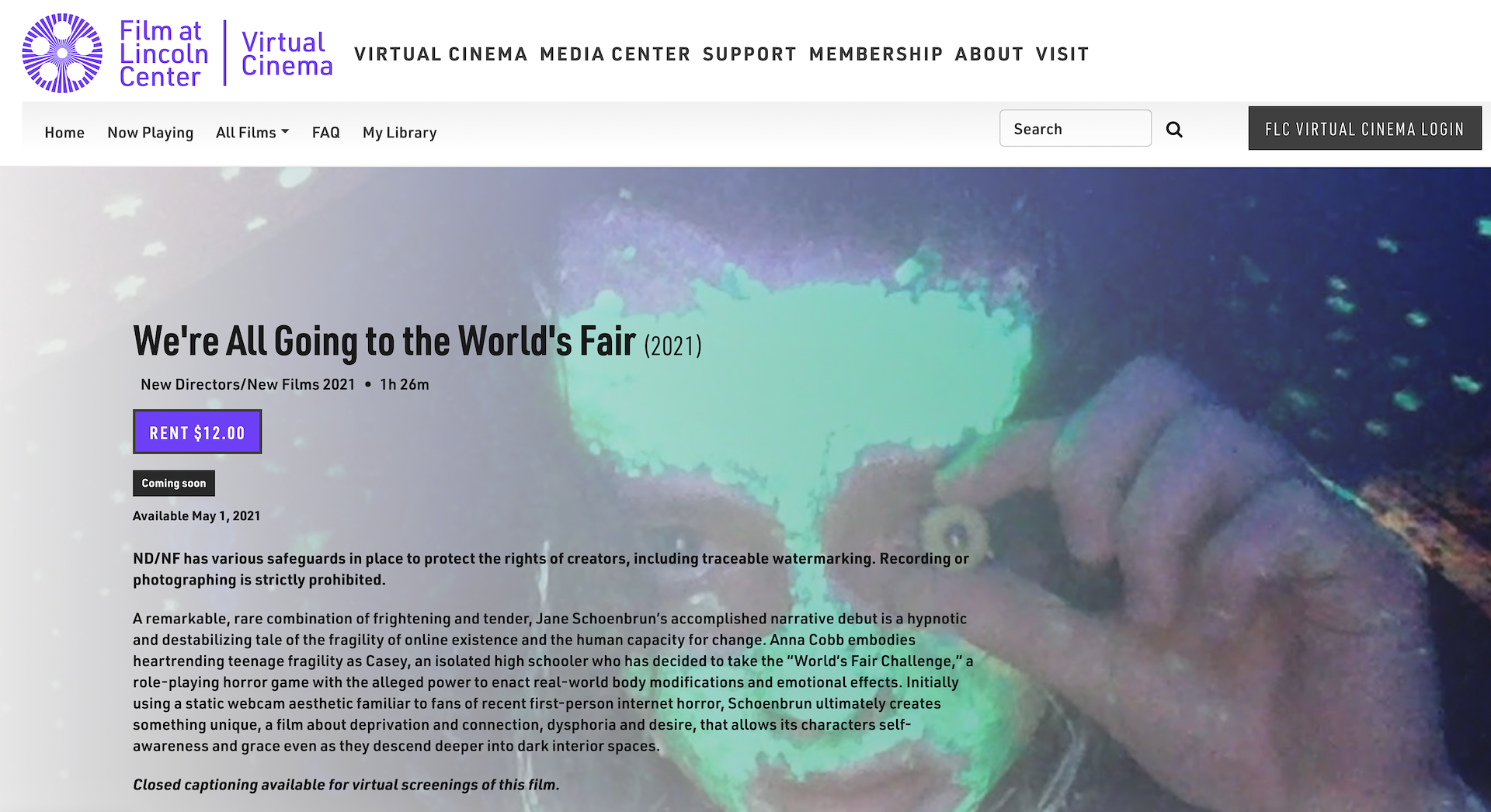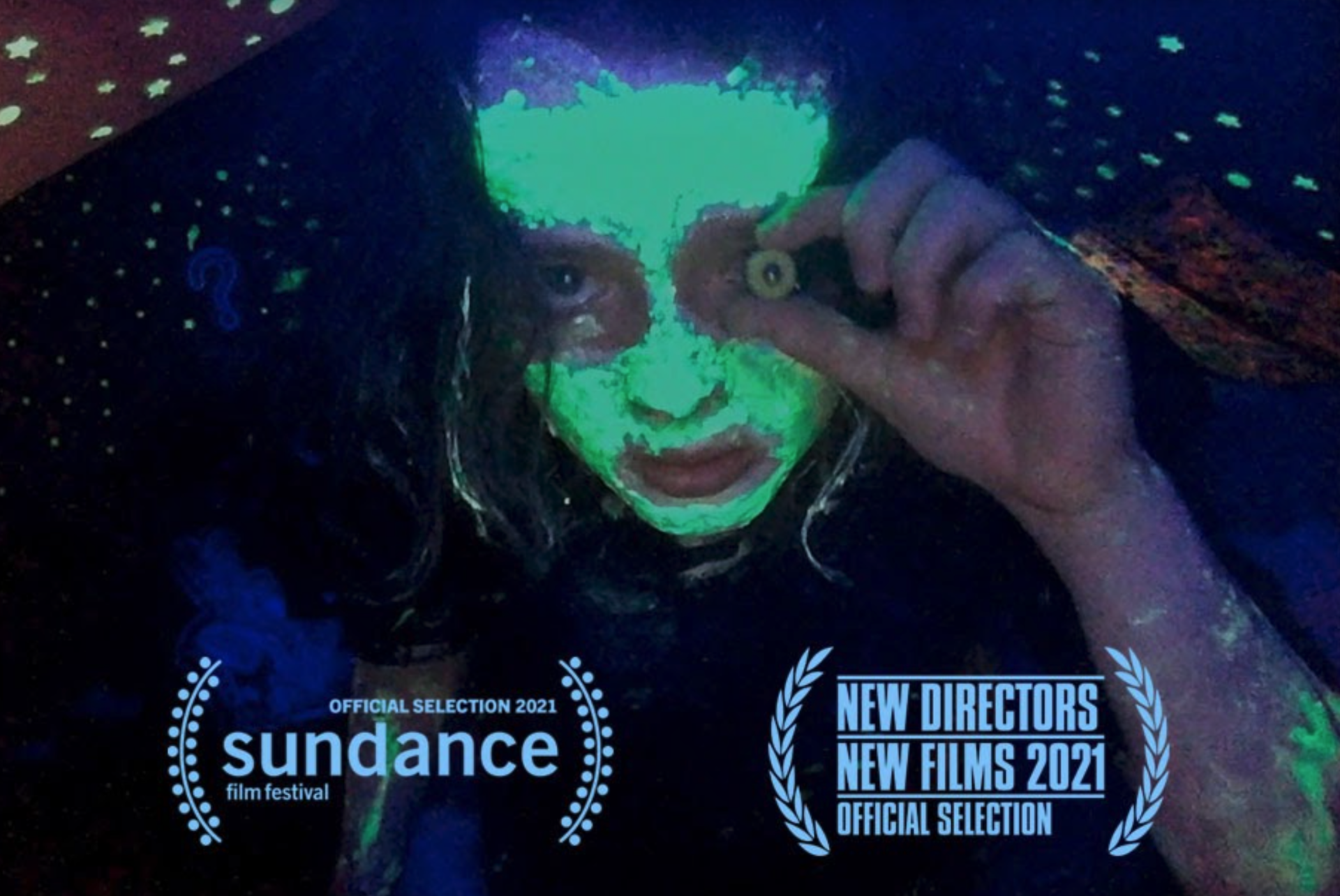 We're All Going to the World's Fair will play New Directors/New Films at MoMA and Film at Lincoln Center. Such an honor to have the New York premiere at Film at Lincoln Center on Friday, April 30, 2021!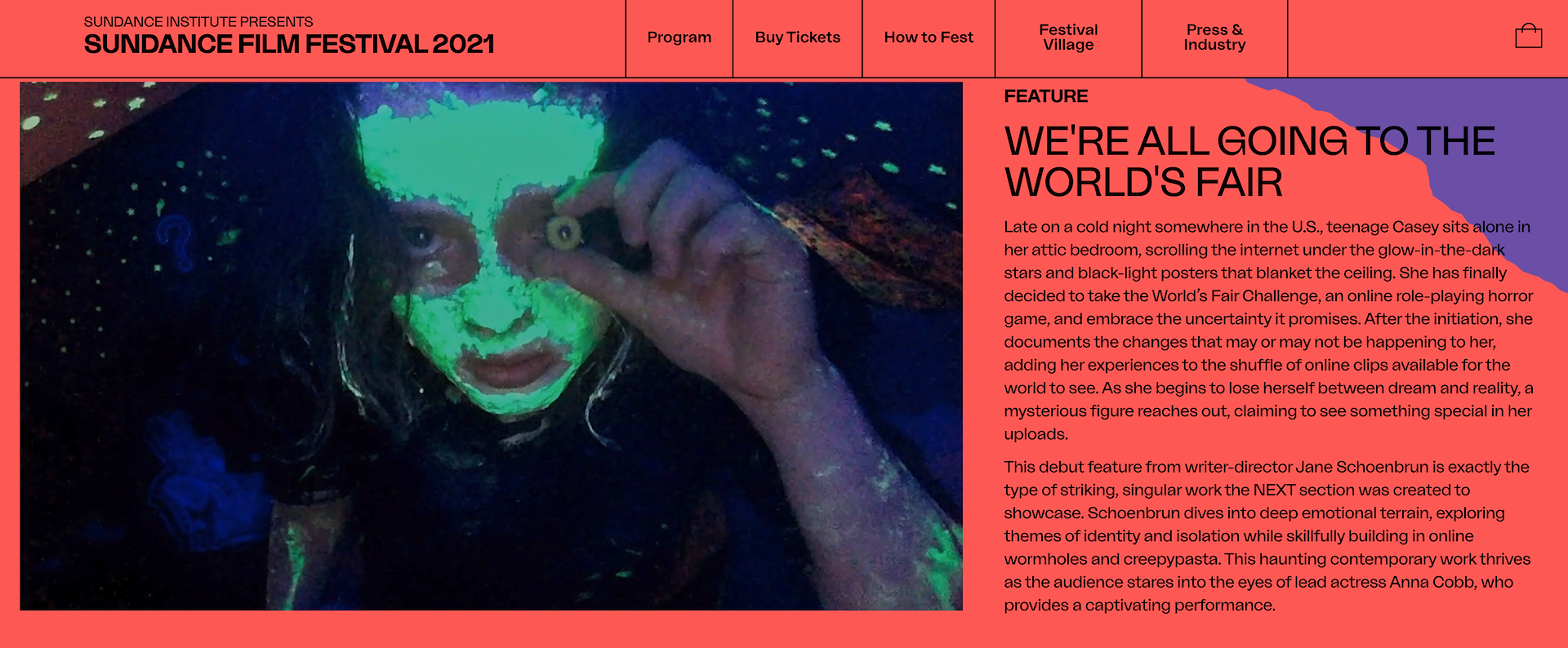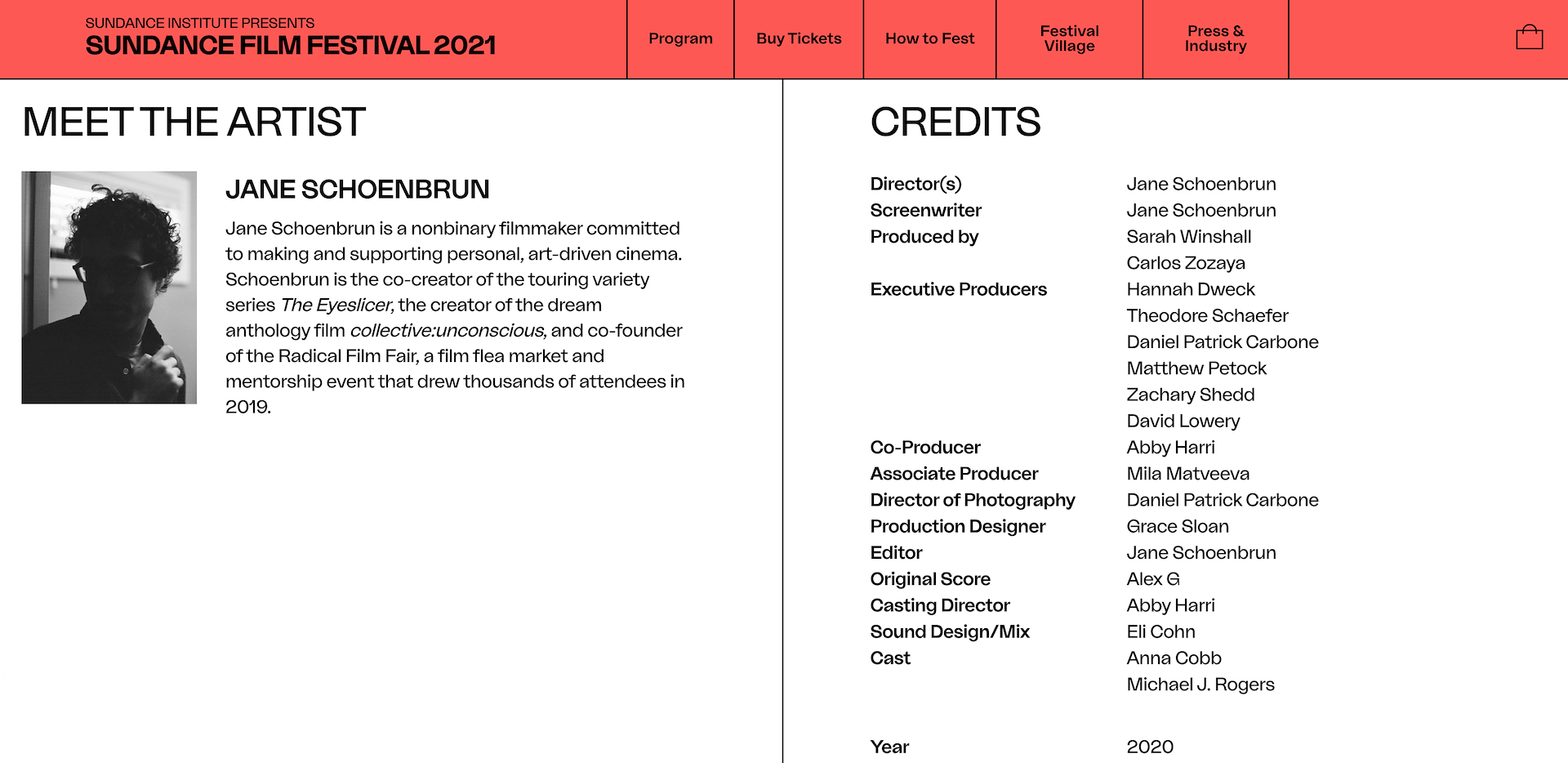 Jane Schoenbrun's We're All Going to the World's Fair premiered in the NEXT section at Sundance last month! I very happily worked on this project as associate producer, and provided the film titles, credits, and some of the artwork in the film.
It has already been featured on "Best of" lists at IndieWire, The Ringer, The Hollywood Reporter, and many other publications, and named one of the Top 10 Best Films at Sundance in a critics poll.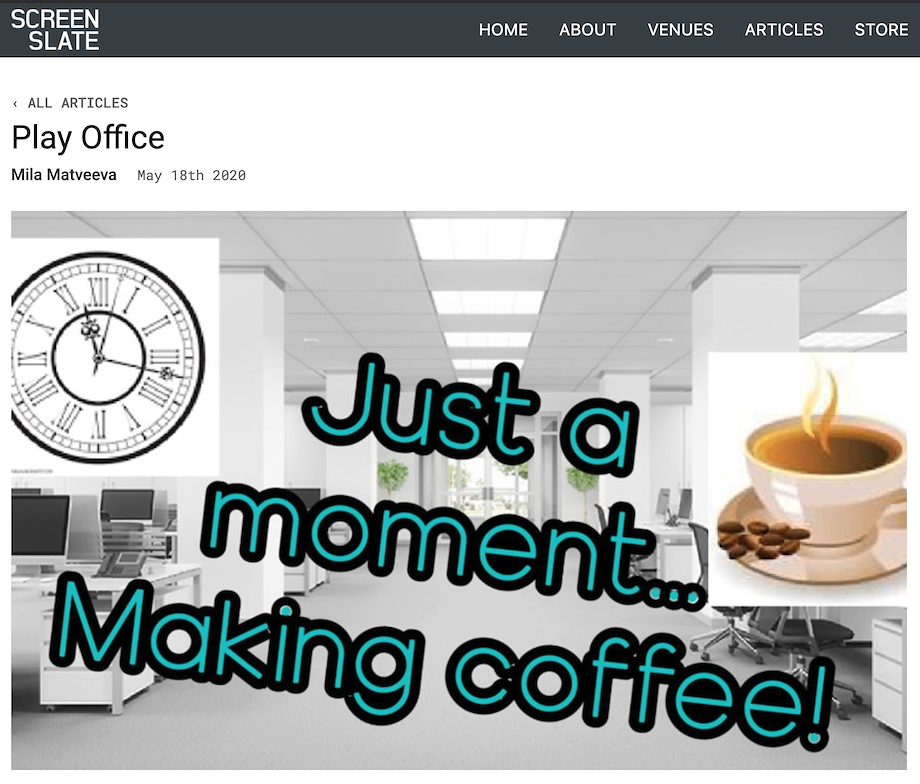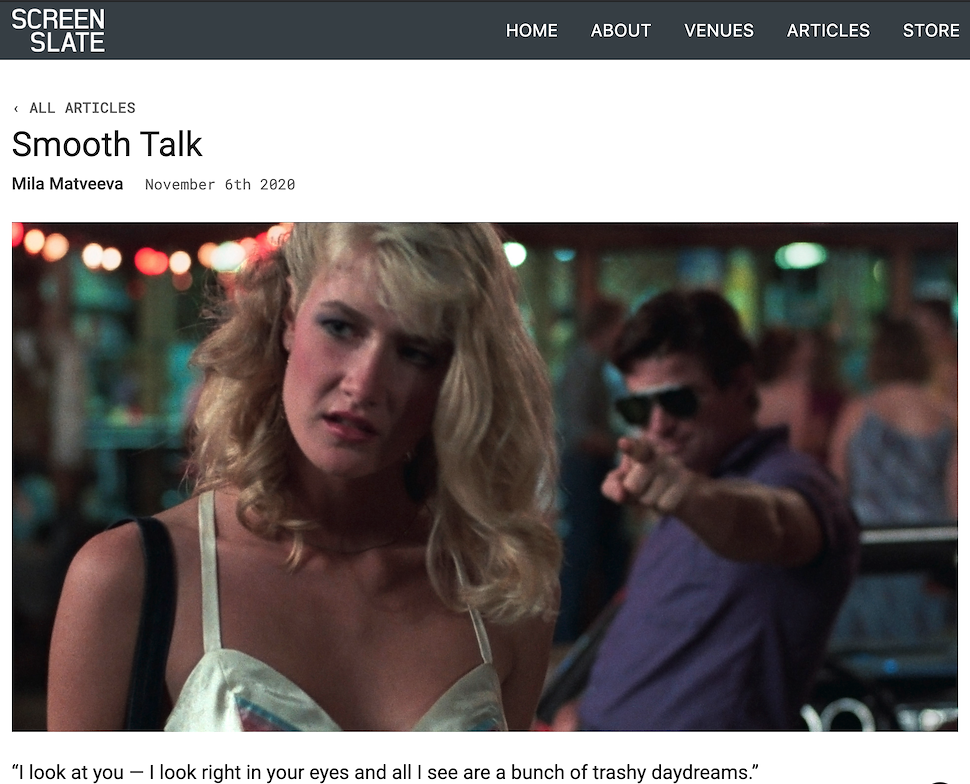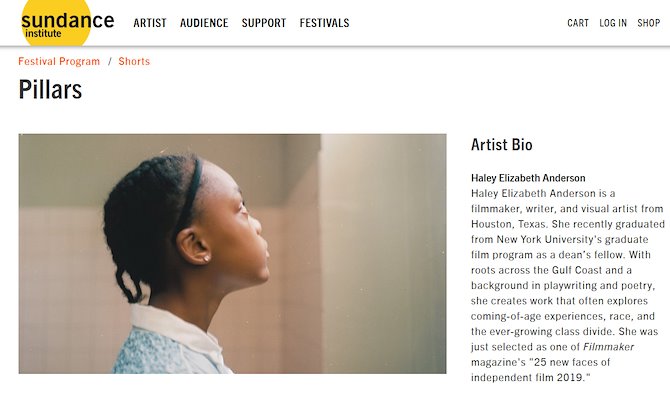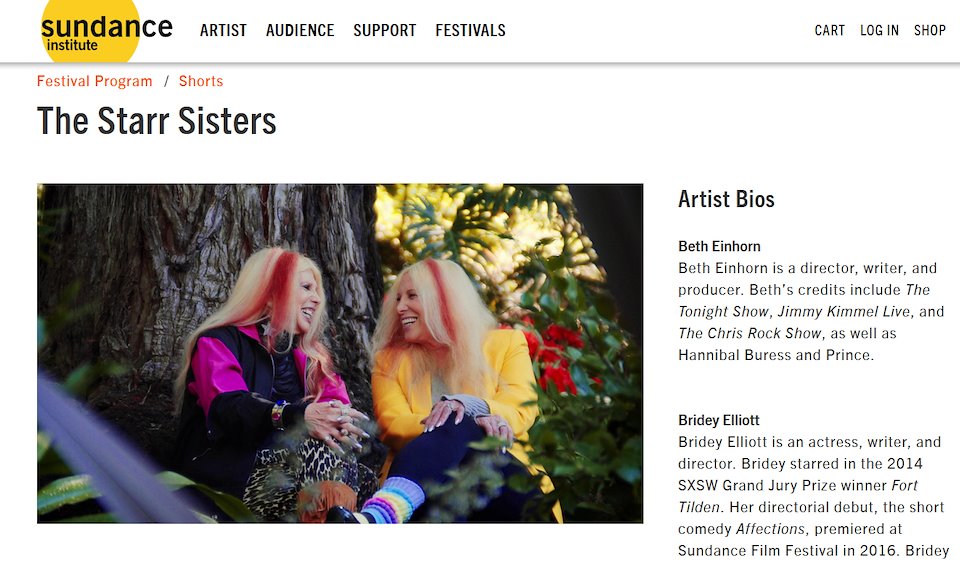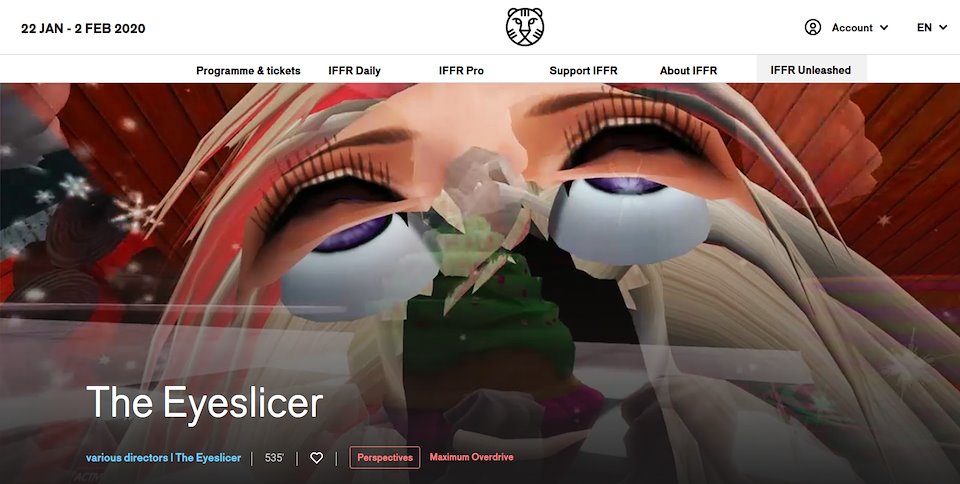 The Eyeslicer heads to International Film Festival Rotterdam in 2020! All 10 episodes of the first season will screen with co-creator Vanessa McDonnell and various filmmakers in attendance. More info here: https://iffr.com/en/2018/films/the-eyeslicer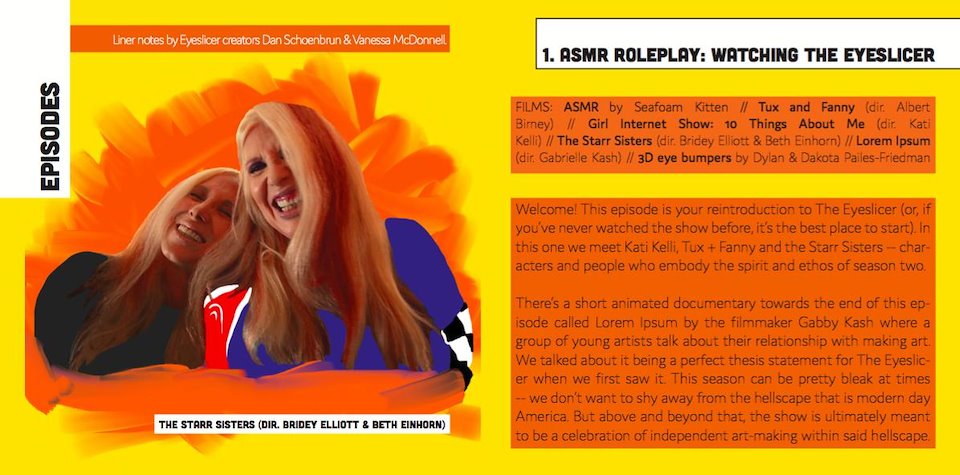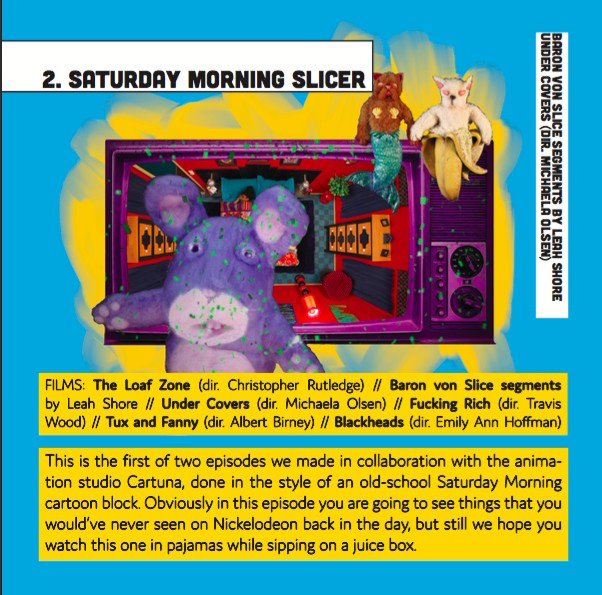 The first 2 episodes of the second season of The Eyeslicer are available to stream for FREE now over at Vimeo!
EPISODE 1: ASMR Roleplay – Watching The Eyeslicer
https://vimeo.com/361820258
Tux and Fanny adopt a stray, two fun specialists take us on a tour of their lives, 10 things about Kati Kelli. Plus: why we make art.
Dir. Albert Birney, Kati Kelli, Bridey Elliott & Beth Einhorn, Gabrielle Kash, Dylan & Dakota Pailes-Friedman. ASMR by Seafoam Kitten.
EPISODE 2: Saturday Morning Slicer
https://vimeo.com/361820922
Baron von Slice shares a few of his favorite toons, the adventures of Minnesota's worst pizza delivery guy, how to pop a blackhead. Plus: Tux gets a new skin suit.
Dir. Christopher Rutledge, Leah Shore, Michaela Olsen, Travis Wood, Albert Birney, Emily Ann Hoffman
The full 13-episode season can only be accessed via physical format, available at https://www.theeyeslicer.com/shop/the-eyeslicer-season-two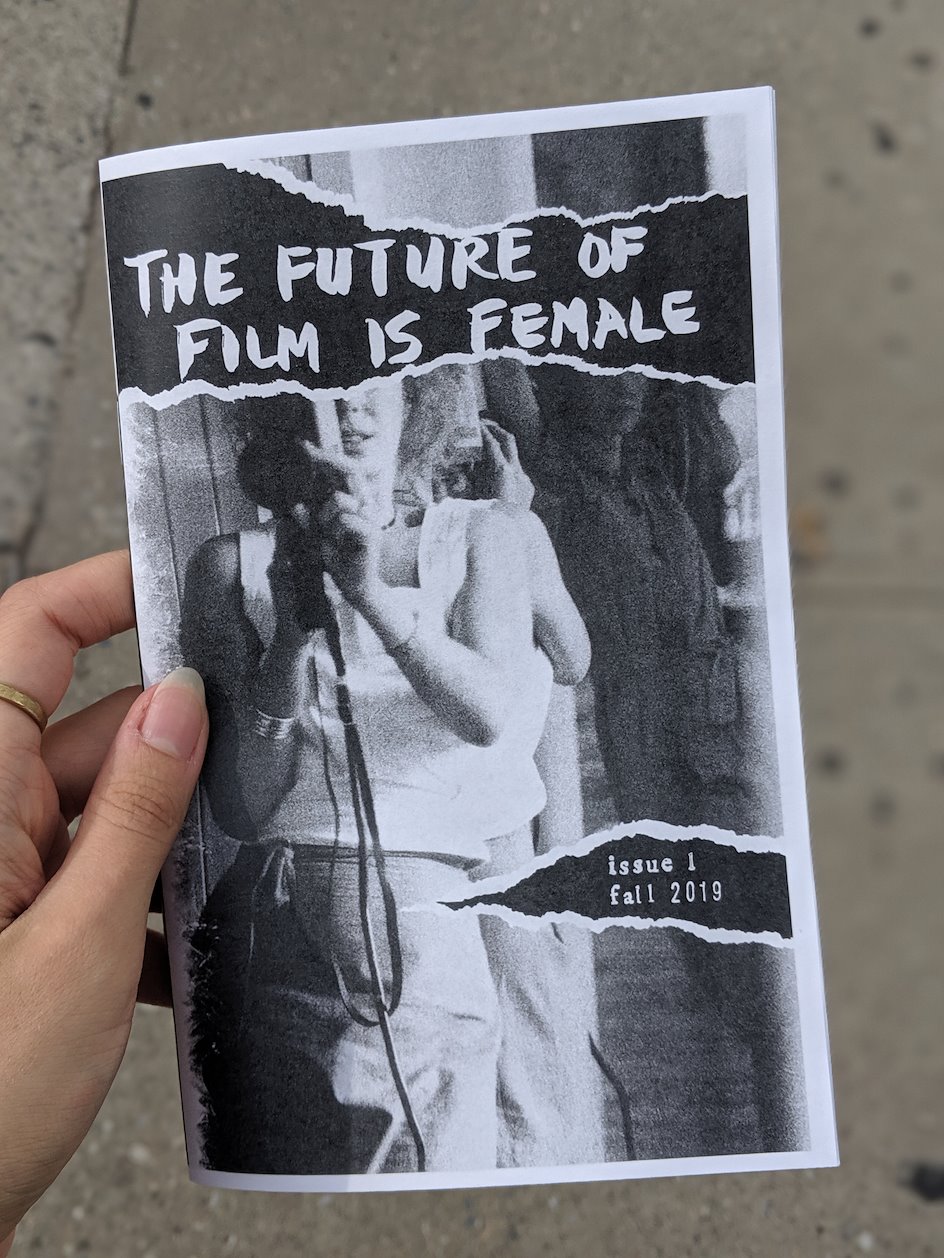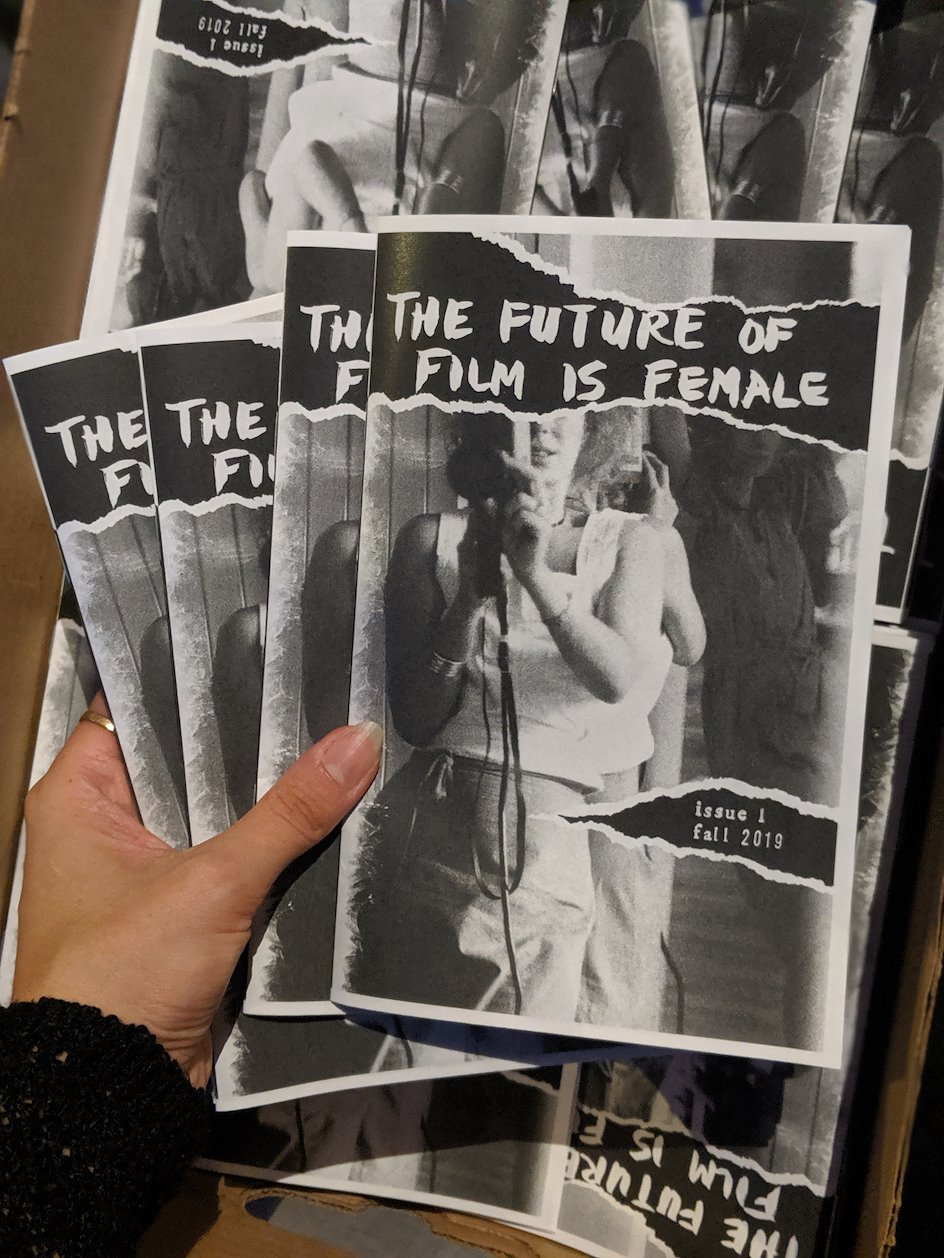 I was delighted to collaborate on a new zine with Caryn Coleman and the Future of Film is Female, an organization and fund dedicated to supporting and promoting female-identifying filmmakers. Issue 1 features reviews, top fives, interviews, and behind-the-scenes with women in the film industry and includes contributions by Desiree Akhavan, Jennifer Reeder, Dominga Sotomayor, Anne Cohen, Ashlee Blackwell, Akosua Adoma Owusu, Shayana Filmore, Alexa Harrison, Kate McEdwards, and A.V. Rockwell.
Available now! https://www.futureoffilmisfemale.com/shop-1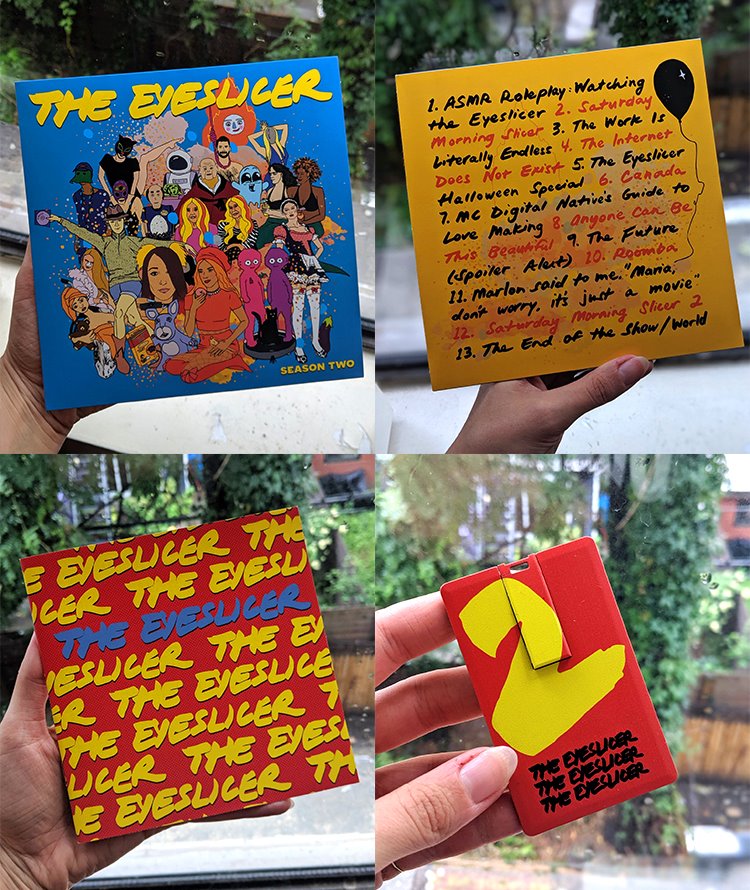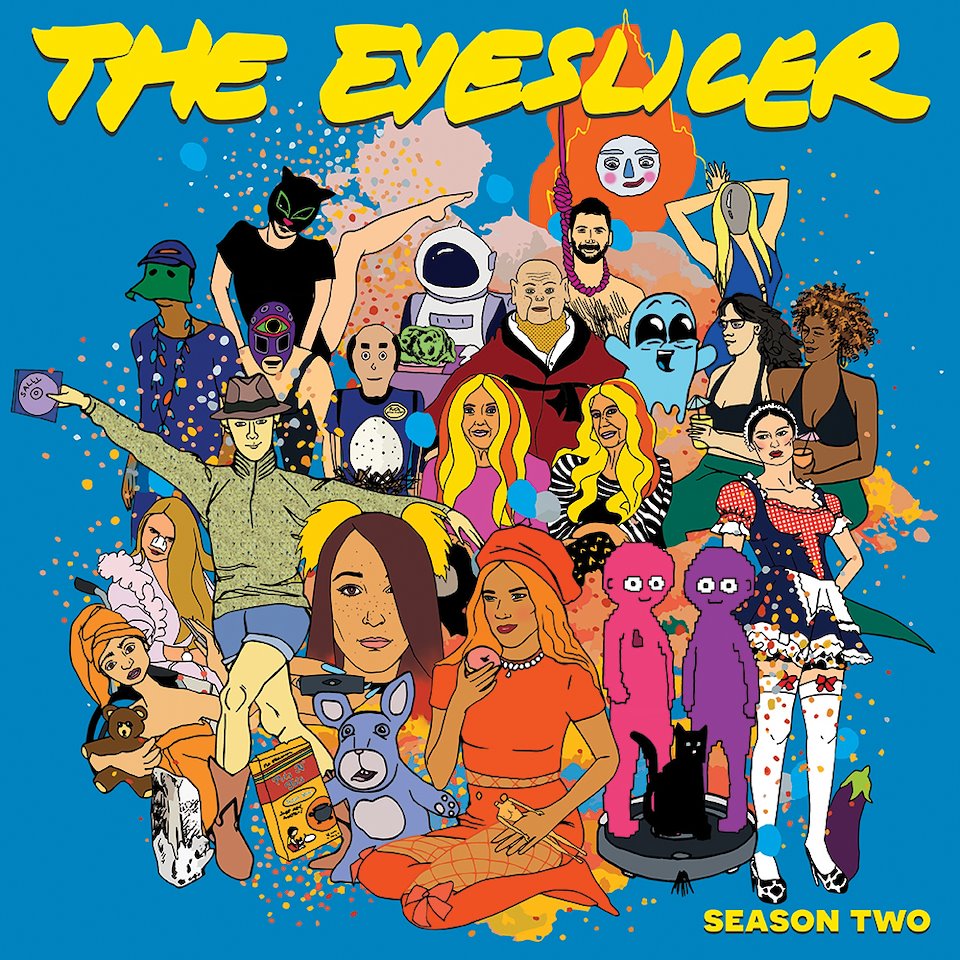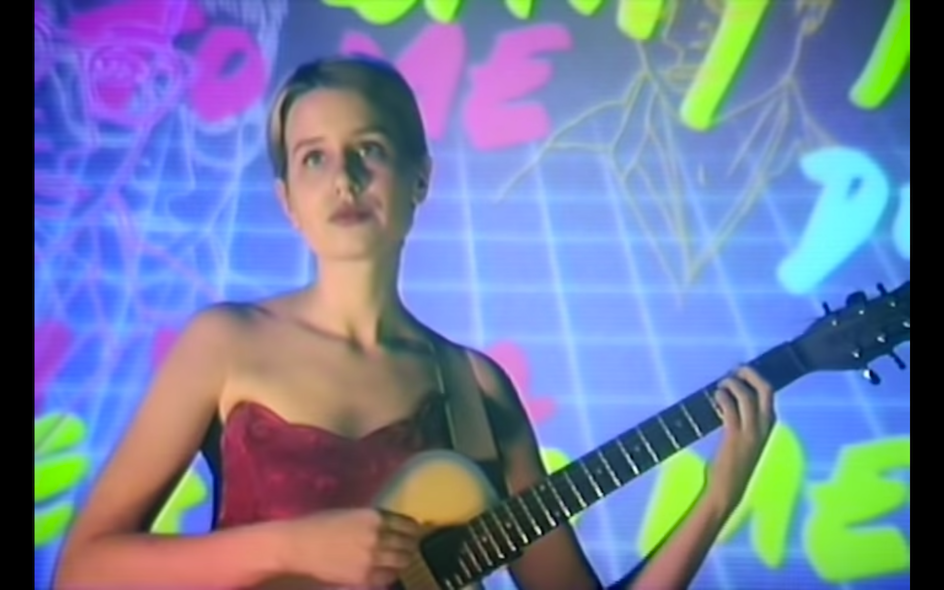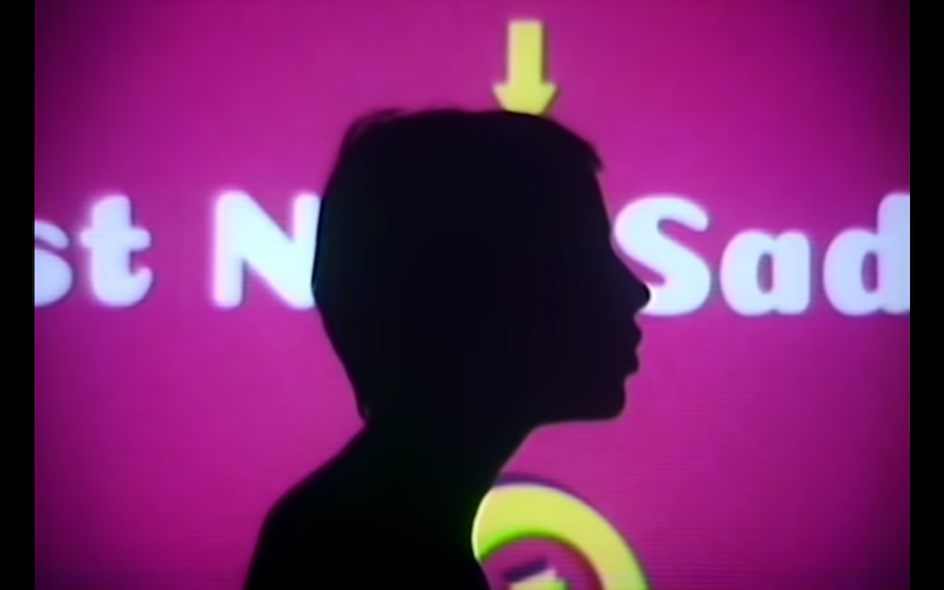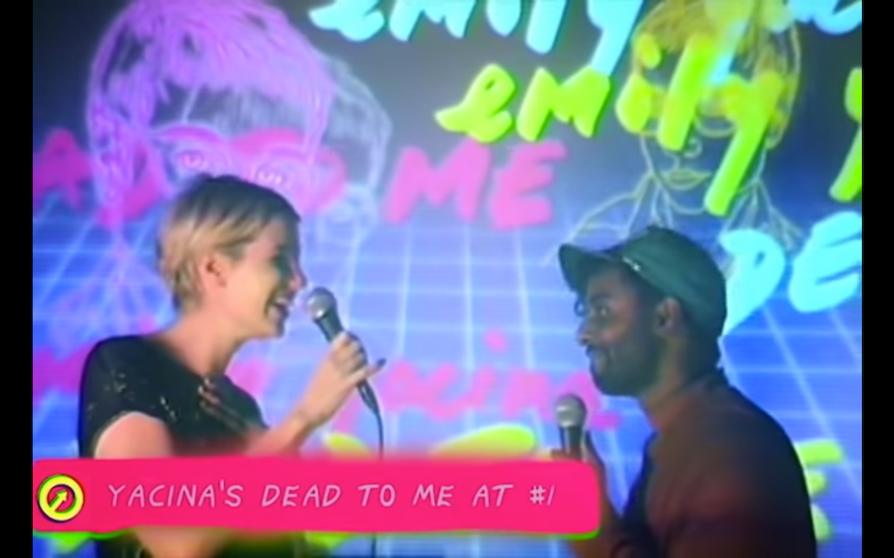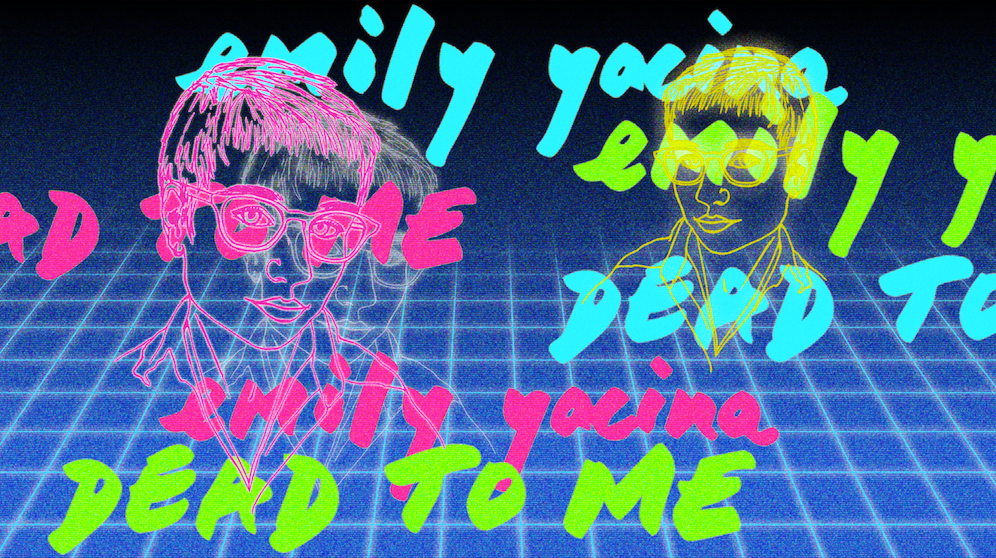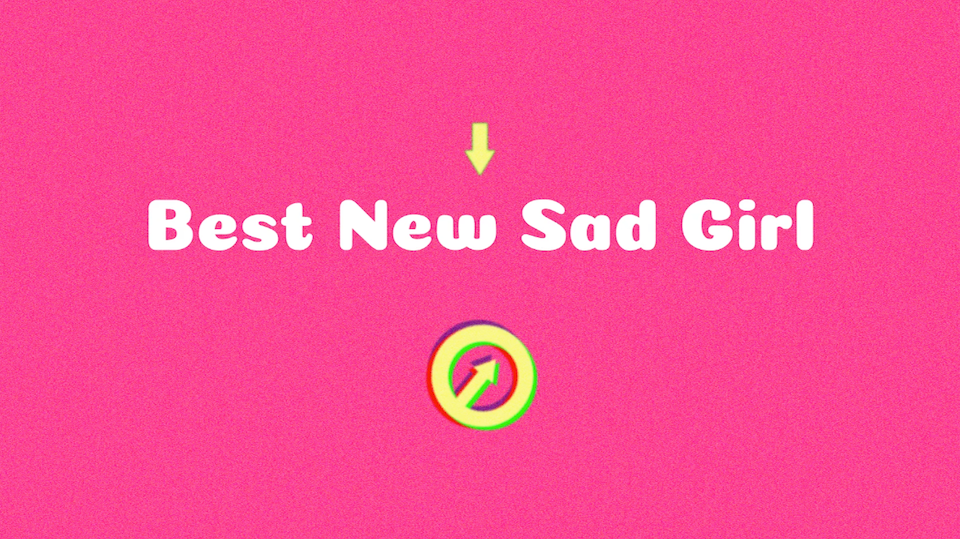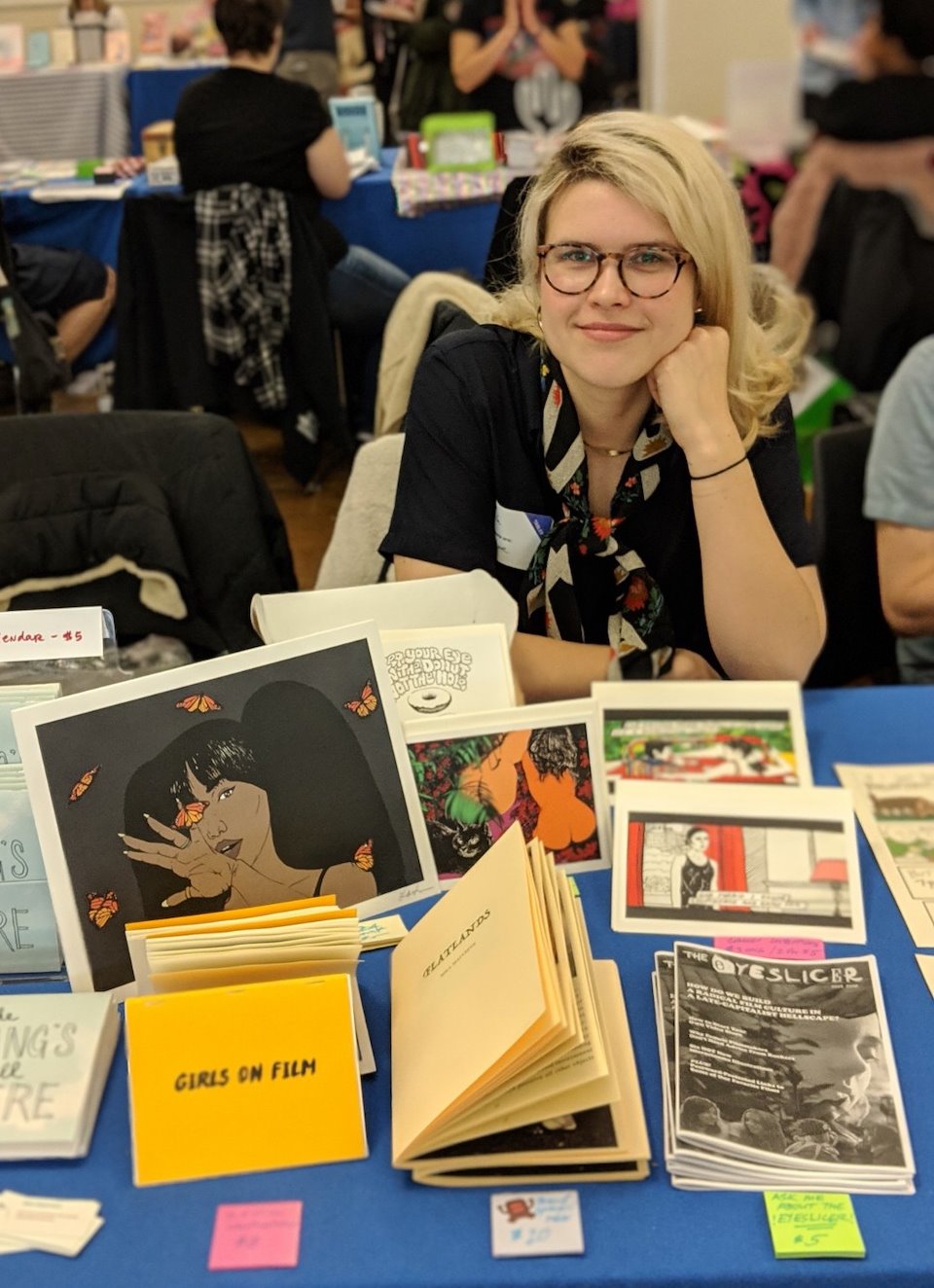 Happy to have shared my work at the Barnard Feminist Zinefest again this year, including my new book "FLATLANDS".
Girls on Film and The Eyeslicer 2018 zines are now both available at Skylight Books in Los Angeles!